Travelling to Bilbao
Bilbao Airport, the largest airport in the Basque region, is served by a large number of airlines including AirFrance, British Airways, EasyJet and Vueling.
Alternatively, you can reach Bilbao by car or, if you're feeling nautical, by ferry; the Port of Bilbao is one of the most important transport and logistics centres on Spain's Atlantic coastline. It moors 20 minutes from the city centre, at the dock in Zierbena (quay A3).
Getting to the Euskalduna Conference Centre
The airport is connected to the centre of Bilbao with a 20-minute journey through the Artxanda tunnels or along the BI-631.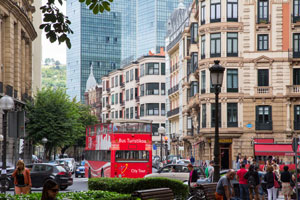 Bus
A3247 BILBAO-Airport operates every day of the year, with services every 20 minutes in summer connecting with TERMIBUS, the Bilbao bus and coach terminus. Before reaching the end of the route, this bus makes three stops in the city centre, 14 Alameda Rekalde, Plaza Moyúa and at 74 Gran Vía.
Taxi
Femade Radio Taxi provides 24-hour services every day of the year and takes advance bookings.
Contact: +34 944 800 909
Getting around the city
Metro

Bilbao's metro system and stunning entrances were designed by architect Sir Norman Foster. The metro services run from 6 am every day, although the last service varies: Monday-Thursday until 11 pm, Fridays and the night before public holidays until 2 am, and there is a non-stop service all weekend, until 11 pm on Sunday.

Bus
The urban bus network in Bilbao, Bilbobus, covers all the districts in the city. It runs from approximately 6 am to 11 pm, although it varies depending on the line. It has a frequency of between 10 and 30 minutes. To get about on weekend nights, there are night buses, known as Gautxoris, which run until 2:30 am on Fridays and all night on Saturdays.
Taxi
Taxi ranks are in the busiest spots of the city, and you can also flag down a taxi in the street when they have the green light on, or order them by telephone. Tariffs are displayed inside the taxis and comprise of the minimum fare, flag-down charge, kilometre charge and other extras such as night service, public holidays, and station or airport service.
Trams, boats and bicycles!
There are other ways to get around Bilbao, including the tram (fare: €1.50), funicular railway and lifts, which link the centre with the suburbs.
***PLEASE NOTE THAT ECIO 2017 CONFERENCE BADGES ALSO SERVE AS A TRAVEL PASS FOR ALL BILBAO TRAMWAYS APRIL 22 THROUGH 26***

Another option are the Bilboats (a cruise down the Nervión estuary to see the Guggenheim Museum, Euskalduna Palace, Zubizuri bridge, the Town Hall) which depart from the pier at Plaza Pío Baroja square, opposite the Town Hall.
Bike rental companies include Alquimoto (C/ Jon Arrospide 14-16) and Urban Bike (Villarias, 3), Ibilbi (Eugenio de Olabarrieta nº 1) and Tourné Bilbao (Villarías, 1).
Images provided by Bilbao Convention Bureau