Sponsors & Exhibitors
ECIO 2017 would like to thank our sponsors for their kind support: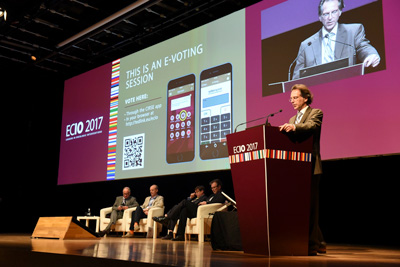 HOW TO PARTICIPATE?
Our sponsorship packages have been specifically tailored to suit a variety of strategic needs, and include the appropriate marketing tools to assist you with promoting your presence. For those wanting to boost their presence, we offer a range of additional and exclusive marketing options to catch delegates' attention and drive interest in company activities.
If your company is interested in participating at the European Conference on Interventional Oncology kindly contact the CIRSE Exhibition Management to receive a copy of the ECIO 2018 Partnership Brochure:
Dominik Udolf
MAW – Medizinische Ausstellungs- und Werbegesellschaft
International Exhibitions and Advertising
ECIO Exhibition Management
Freyung 6/3, 1010 Vienna, Austria
Phone: +43 1 536 63 ext. 64, Fax: +43 1 535 60 16
Alternatively, should you wish to discuss your overall presence at ECIO 2018 or have other marketing-related queries, please contact CIRSE Marketing at:
Rudi Glock
ECIO - European Conference on Interventional Oncology
Neutorgasse 9/6, 1010 Vienna, Austria
Tel: + 43 1 904 2003 92, Fax: + 43 1 904 2003 30
ECIO 2017 Sponsors